Garage Door Remote Clicker
Back To Our Services
One of the best things that modern technology has offered is convenience. Today, using the opener and remote control of a garage door, there is no longer a need to get out of the car to open or close the door. The opener is the motorized device that is able to operate our good old garage door. Most of these are controlled by switches on the wall, and also by reliable remote controls. The first wireless door openers were developed in the US by two inventors from Washington and Illinois. The first remote controls on the other hand were pretty simple and composed of very simple transmitter and receiver that controlled opening mechanism. The system made use of a transmitter that would transmit on a specified frequency while the receiver would listen for the radio signal and open or close the garage depending on the position of the door.
Remote Controls Over the Years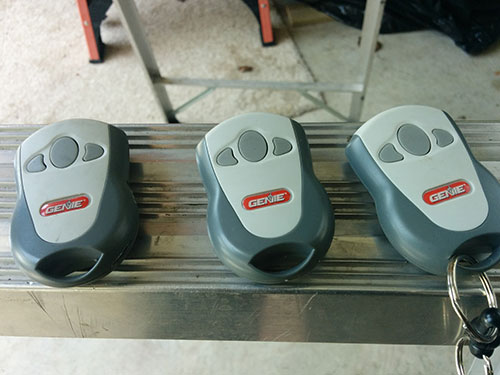 Multi Code system was established to address the problem of shared frequency. This required owners to preset digital code by switching 8 to 12 DIP switches on both the receiver and transmitter. Today, there is the rolling code technology that combats security issues. If thieves were able to detect codes used by the previous system, they will find it difficult nowadays to do so,since the code constantly changes each time the remote control is used. Most major brands of openers offer advanced systems to provide better security to customers. Regardless of the brand of opener you are using, "Garage Door Repair North Richland Hills" has the skills and technology to help you deal with problems arising from them. We possess the finest technicians who manage all issues related toLiftMaster security or Genie intellicode.
We do not just offer garage door remote repair, we also offer replacement. These devices are handy, but they display damage as time goes by. They are supposed to offer convenience, but they may be the one to cause trouble. Common problems with remote controls are when they suddenly stop working. If this happens, of course, the battery should be the first part checked. If the wall-mounted button works but the clicker does not, reprogramming the remote may be needed if the battery is still working. It is always best to check the manual, but you do not have to go through all of these steps because we can competently do it for you. We have been providing garage door repair services for numerous residential and commercial customers, and troubleshooting a clicker is a simple task for our expert technicians. Ask us today how we can best serve you.